Dan "this Band is worse than Mediocre" Nassif -- Bass, Guitar
(Bass) and Lead Singer.  As a lead singer and bassist during the mid '70s in the faintly renowned Des Moines area cover band, "Free Pizza - Saturday 9-1", Dan has played guitar and electric bass for over 30 years (he doesn't look it some days, but he really is that old).  As The Mediocritones swirled into hazy definition in the summer of 2006, he switched to bass full time because none of the other members wanted to play "that heavy guitar with the long neck and thick strings",  and he figured:  what the heck, job security!  But now he's made his peace with the instrument, and even plays it adequately at times.   Dan also appears occasionally (okay, twice so far) with local cover band Janie's Addiction.  As a vocalist, he counts among his influences Van Morrison, Lowell George, Paul Rogers, Marvin Gaye, Glenn Frey, Joe Cocker, Billy Joel and Mick Jagger - really now, who doesn't? 




Pat "Am I Average or Mediocre" Sheridan -- Backup/Harmony, Cow Bell, Drums, Guitar (Acoustic), Harmonica, Lead Singer, Mandolin and Tambourine.  Surrounded by 9 musical people growing up, Pat searched high and low for a way to differentiate himself. He sang and strummed the acoustic along with the rest of his family. He tickled the ivories, but his sisters tickled them better. So Pat went down the road to ruin and became a drummer. Pat found fame early marching in the drum and bugle corps, caressing the timpanis and banging the gong on the orchestra stage, and rocking his kit in the little known, but critically acclaimed band "Those 3 Guys" in the 1970's. After a decade beating his sticks (and his head), Pat once again hopped onto the quiet road. Future mediocritones found him serenading his way through coffee shops in the Twin Cities and helped Pat rediscover his inner rock star by bringing him down the righteous, and mediocre path.  Pat contributes vocals, acoustic guitar and a variety of percussive instruments to our shows. Influenced mainly by his fellow band members, Pat remains entrenched in mediocrity to this day.
John "I am not Mediocre" Hupp -- Backup/Harmony, Drums and Saxophone.  Born to a musical mother and raised watching Buddy Rich and Gene Krupa on the Tonight Show, John began playing the skins early in life and has never recovered.   Playing in rock bands through high school and college in Chicago- with a regular Saturday gig at Uncle Bunky's in the mid-80's -  prepared John for his rendezvous with the Mediocritones.   Hired on to play saxophone (to which the moniker of mediocre squarely applies), John took over at drums in late 2006.   He occasionally is allowed from behind the drums to play some sax and sing.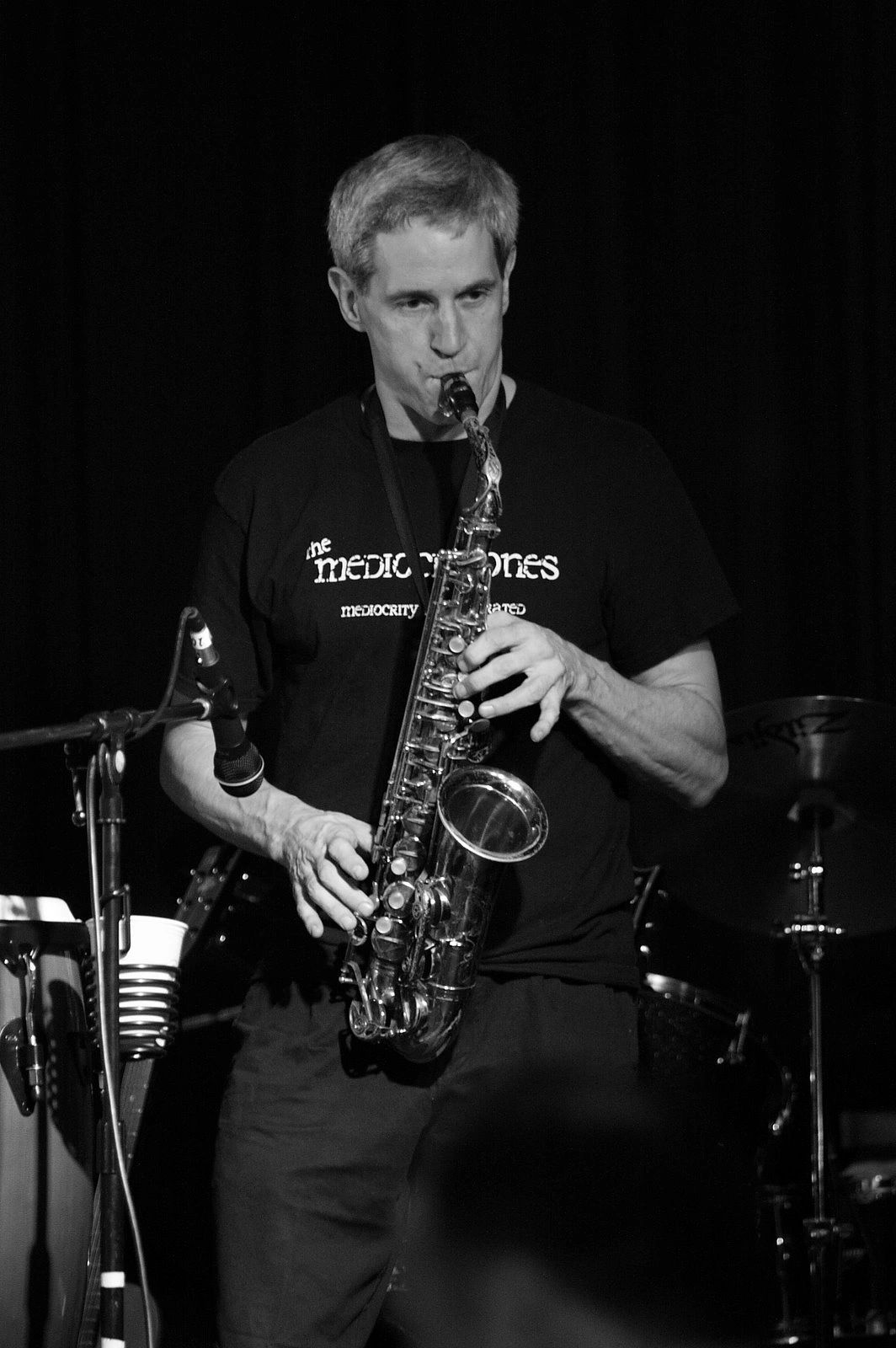 Joel "Father of Mediocrity" Cannon -- Backup/Harmony Keyboard, Lead Singer and Piano.  As an infant, Joel Cannon slept in the case of a slightly out-of-tune upright piano.  Despite a personal preference for the hammered dulcimer, he has been unable to separate himself from the instrument that was, literally, his cradle.  Stops in various coffeehouse combos and loud house parties led inevitably to a career in the Mediocritones.



Guy "Not Even Mediocre" Smith -- Rhythm Guitar (acoustic and electric), bass.  Hooked on guitar since 4th grade, Guy is the band's rhythm guitar player and occasionally plays bass.  His influences range from Johnny Lee Hooker to The Ramones.  Known for playing loud and fast, his band mates are good at reining him in when necessary and letting him go when not.  He has been playing classic rock since his days in college where he played rhythm guitar for the internationally acclaimed and world renowned band, The Rolling Bones.
 
 
Rod "Why Am I Stuck with this Mediocre Band" England -- Lead Guitar (electric).  Rod England was raised on 16th Century Madrigals, Buddhist and Gregorian Chants, Bach, Jazz, Motown & R&B . His father played sax in a jazz combo and in big bands as a teenager.  His mother played piano. On February 4, 1964 the Beatles first appeared on Ed Sullivan and Rod knew then that either the guitar, hurdy-gurdy, lute, balalaika or zither would be his passion.  In 1967 Jimi Hendrix released Are You Experienced, Eric Clapton and Cream released Disraeli Gears, Dave Van Ronk and the Hudson Dusters released their seminal album of the same name, the Blues Magoos released Electric Comic Book and the Cannonball Adderley Quintet released Why Am I Treated So Bad. This historic music would be his initial rock and blues influence. Other early influences were the Electric Prunes, New Riders of the Purple Sage, Englebert Humperdinck, Carlos Santana, Duane Allman, Pete Townsend and Jeff Beck.  Rod started off playing the kazoo in the womb and then turned to acoustic and electric guitar which he has been playing since the age of 2 weeks . Playing alone and then in many worse than average bands in high school and college, he now plays lead guitar for the Mediocritones.
 
Stuart "What is Mediocre Anyway" Noun -- Backup / Harmony, Cello, Lead Singer, Mandolin, Tambourine and Violin.  Raised on his mother's passion for country and western, and accordion polkas and dirges, Stuart experimented with many music interests which include the dulcimer, a high school singing quartet, and some of the female violinists of the MN orchestra who use to hang out at a local pub after concerts back in the late '80s.  His influences broadly range from J.S. Bach to current Alternative/Post Punk which has allowed him to remain mediocre and at the middle of his game.  Stuart sings, plays drums, percussion, violin, mandolin and will occasionally fetch beers for the band in the middle of a music set.




Gig Information:

Preferred Venues -- Bars, Corporate Events, Private Parties and the occassional Wedding
 
Travel for Gigs -- Up to 50 miles   

Days Available -- Sunday Afternoon or Evening, Monday Evening, Tuesday Evening, Wednesday Evening, Thursday Evening, Friday Evening, Saturday (Any Time)

About Our Pricing -- Depending on length of show, distance and audio needs, our prices range from $400 to $1,000